Fujairah repairs
We have a dedicated team for carrying out GRE & GRP pipeline installation, repairs, and retrofit jobs. Our specialized team also performs fiberglass coating works on fiberglass boats m fiberglass tanks, and ships scrubber overboard lines. We have been doing various kinds of GRE/GRP jobs offshore, sailing jobs, and at overseas ports. Our in-house team is trained and certified for NOV bandstand fiber glass systems. For NOV bondstrand fiberglass systems, we meet all major classification society requirements as the pipe bonder's certifications are class approved.
Ballast GRE pipe repairs carried out onboard our client's vessel which was dry-docked at Oman dry-dock. The vessel's ballast system pipelines are of GRE pipe maker NOV bondstrand, 2000 M series pipes. Vessel owners contacted us to repair the ballast pipeline in STBD void space which was heavily leaking due to damages. After receiving materials onboard the vessel, we mobilized our team from UAE and attended to the job with the necessary GRE special tools in Oman. The GRE pipe was repaired onboard the vessel by removing the damaged pipe section and flanges. The new flange and pipe are pre-bonded with adhesive glue and then at the void tank, pipe ends are laminated together as per the NOV procedure. After proper cutting of adhesive joints and laminate joints, the pipelines were successfully tested.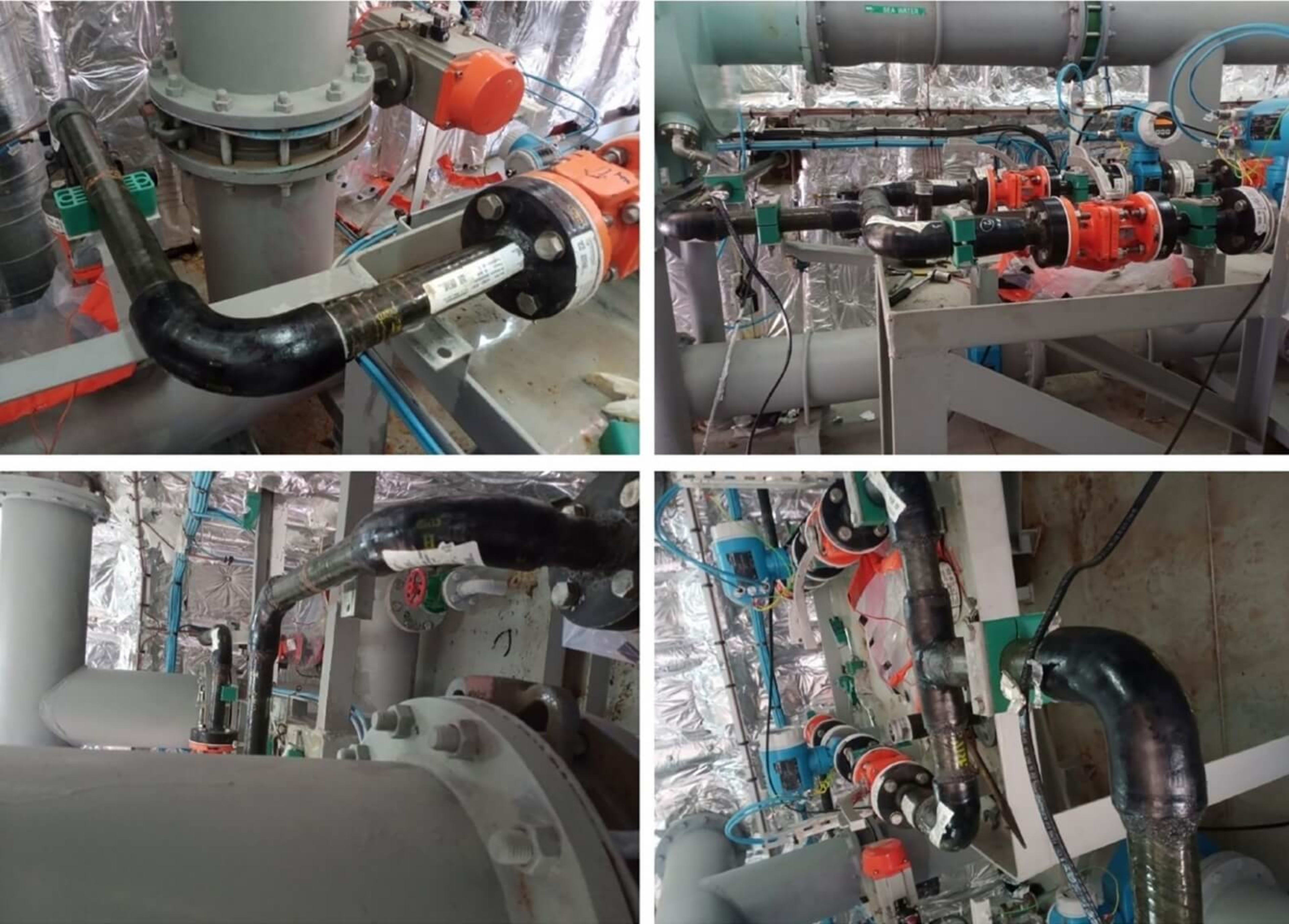 BWTS dosing line GRE pipe renewal carried out onboard our client's vessel during sailing. Vessel owners contacted us for renewal of their BWTS system ClO2 dosing pipes which are of makers NOV bondstrand,7000M Series. Owners requested to renew all GRE dosing lines in the main deck which was almost 90 meters long 2-inch pipes. Since the vessel's stay of duration at Fujairah was very short only for bunker operations, the owners requested to arrange a team to sail with vessel and finish the job in 4 days. Our team boarded the vessel from Fujairah port and commenced the jobs. As committed to the client we finished GRE pipes renewal in 4 days and we were able to meet ship's schedule including operational testing of BWTS dosing lines onboard the vessel. After the completion of the jobs, the team disembarked at Salalah Port.